Uttarakhand LT Teacher Joining 2017 July for 6000 vacant posts. The recruitment for the posts of LT and Pravakta in the govt. secondary and senior secondary schools will begin from this month. The recruitment will end up in the 1st week of July 2017. The whole recruitment process will be online.
Uttarakhand LT Teacher Joining 2017 
The Education minister Arvind Pandey has given certain orders in this regard to make some new software for holding the online recruitment process. The Guest teachers (Atithi Shikshak) who had been waiting for the recruitment procedure to begin now would be so happy seeing this. The recruitment procedure will begin in the end of this month.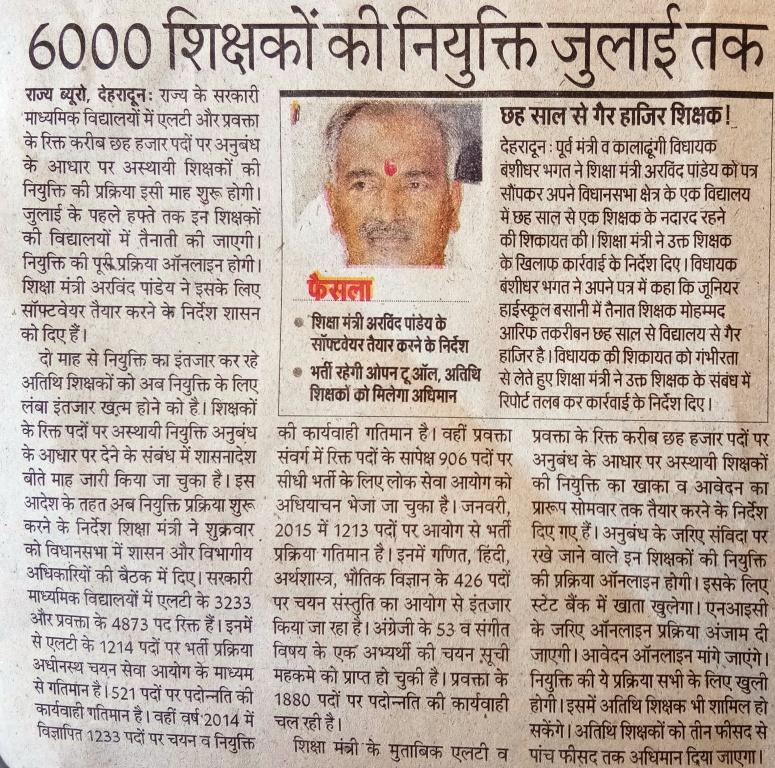 There are around 3233 vacant posts of LT and around 4873 vacant posts of Pravakta in the state. Now the govt. has given the official order to start their recruiting process. It has been a long time since it was said that the Guest teachers will be recruited on the posts of LT and Pravakta but after quite a long time no decision and no procedure was done in order to do that.
Now when the decision has been taken in this regard, the guest teachers are finally happy. The presentation of the application form to provide the recruitment process to the guest teachers will be ready till this Monday. For this an account will be opened in the State Bank of India. The online procedure will take place through NIC.